Law School - course offerings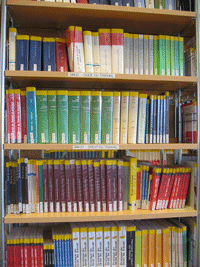 In accordance with the European Higher Education reform process, all the degrees offered by the Law school have been based on the new LMD system (
Licence, Master, Doctorat
) since 2003.
Diplomas are organized in semesters and teaching units, and their attainment is subordinate to the ECTS Credits that the students obtain for successfully completed studies. These Credits, which can be capitalized and transferred, constitute a standard for comparing diplomas, and facilitate student mobility.
The Law School offers an extensive curriculum in law and political science, which range from the Licence (3 years) to the Master's degree (2 years) and may lead to 19 PhD programs.
Licence (3 years of higher education)
Two licence degrees are on offer: one in
Law
and the others in
Political Science
. The official designation of the degree in Political Sciences is Licence Science Politique - Droit. It is organized around a double major in Law and Political Sciences, and also aims to consolidate the legal training of the Political Sciences students.
Professional Licence Degree (3 years of higher education)
Three professional licence degrees
are offered at the Law school:
Real estate and property management, at the Institut de Droit Immobilier et d'Administration de Biens (IDIAB) - More information
Health Services Management Licence Degree at the Institut de Formation et de Recherche sur les Organisations sanitaires et sociales et leurs réseaux (IFROSS). This continuing education degree is for professionals only - More information
Master's degree (5 years of higher education)
The diplomas - Master 1 and Master 2 - are divided into the following specialties:
private law and criminal sciences
European , international and comparative law
Political sciences - International Relations
Law and Management of complex organizations

During the first year of their Master's degree (Master1), students are offered a very wide array of courses, in all areas of Law and Political Science.
For some specific Master2 courses, students may choose between several options, which greatly increases the number of specializations (about 40 for the Master 2).
Examples :
In September, 2008:
Master 2 in Private law (specialty), fundamental private law (option)
Master 2 in Business law (specialty), advanced Business law (option)
Master 2 in International Relations, Security and Defence (specialty), International public action policy and strategy (option)
Courses
LL.M International and European Law

LL.M Pallas in European Business Law
SELF (Study in English, Lyon, France)
Search of an academic program
Last updated: February 2, 2012
https://facdedroit.univ-lyon3.fr/courses