Lyon law school
Every year over 8,000 students acquire a legal training through our wide array of about fifty diplomas, ranging from first degrees to master's degrees.
View courses
The law school also offers a continuing education service for those who wish to get a degree at any moment in their lives.
More...
The research Centres and Institutes provide students with a legal training in many areas of interest, and greatly contribute to the scientific influence of the school.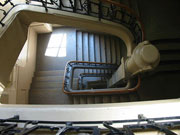 Thanks to the high quality of the course offerings and of the teaching staff, the Law school is a major force in the field of teaching and research at both national and international levels, with approximatively 100 partner universities abroad and hundreds of students participating in
international exchange
programs.
Last updated: April 16, 2015
In the same section
--> https://facdedroit.univ-lyon3.fr/presentation